SunPower for Siemens SPN1000

SunPower ist ein Programm zum Auslesen der RS232 Schnittstelle von Wechselrichtern vom Typ Sinus SPN1000 der Firma Siemens® .
Als Vorlage dieser Software diente die ehemals für MS-DOS verfügbare Software SolarVision 1.5c der Firma Mesatec Mess- und Automatisierungssysteme GmbH.

SunPower is a software for reading out data from RS232 interfaces of Sinus SPN1000 inverters produced by Siemens®.
This Software is based on the old and obsoleted Software SolarVision 1.5c which was written by the Mesatec Mess- und Automatisierungssysteme GmbH.

Screenshot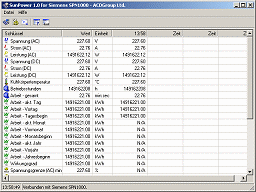 Technischer Support / Technical support:
Features-Übersicht
Echtzeitübersicht aller Messwerte
Anpassbares CSV Dateiformat für einfache Auswertungen in MSExcel®
Windows NT Dienst
Features-Overview
Realtime overview of all values
User-configurable CSV fileformat for easy evaluation in MSExcel®
Windows NT Service
Dies ist eine eingeschränkte Test-Version. Bitte kontaktieren Sie uns, falls Sie an der uneingeschränkten Vollversion interessiert sind.
This is a limited try-out version. Please contact us if you are interested in the unlimited full version!
Unterstütze Betriebssyteme / supported operatingsystems:
Windows95®, Windows98®, WindowsME®, WindowsNT 4.0®, Windows2000®, WindowsXP®, Windows Vista und Windows 7
Siemens is a registered trademark of Siemens GmbH/ Microsoft and Windows are registered trademarks of Microsoft Corporation.